Skip to Main Content
It looks like you're using Internet Explorer 11 or older. This website works best with modern browsers such as the latest versions of Chrome, Firefox, Safari, and Edge. If you continue with this browser, you may see unexpected results.
Your Librarian
Cynthia Hunt
Definition and Models of Disability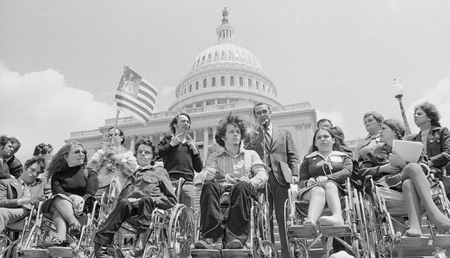 A group of disabled Americans lobbies at the Capitol in 1972 for many of the rights and public accommodations that are now standard. The disability rights movement, born in the United States in the 1960s and 1970s, has been slower to take hold in the rest of the world. (Bettman/Corbis/AP Images)
Online Resources
Americans with Disabilities Act of 1990, As Amended

Following is the current text of the Americans with Disabilities Act of 1990 (ADA), including changes made by the ADA Amendments Act of 2008 (P.L. 110-325), which became effective on January 1, 2009. See Sec.12102. Definitions of Disability.
---
ADA Legacy Project: Moments in Disability History

Beginning in January 2013, and on a monthly basis through July 2015, a series of "Moments in Disability History" was created and posted on a web page devoted to the ADA Legacy Project. The ADA Legacy Project celebrates the impact of the Americans with Disabilities Act (ADA) on disability rights, and honors the contributions of individuals with disabilities and their allies who persevered in securing the passage of this landmark civil rights legislation.
---
---
---
---
Image Archive of the American Eugenics Movement

The Archive contains over 3,000 images of photographs, lantern slides, correspondence, journals, texts, manuscripts, charts, and data -- including extensive collections from noted eugenicists.
---
Eugenics Exhibit (Museum of Disability History)

The Museum of disABILITY History is dedicated to advancing the understanding, acceptance and independence of people with disabilities. The Eugenics Exhibit provides a look at the Eugenics movement in America, including negative and positive eugenics and the treatment of people with disabilities.
Disability - U.S. Census Bureau

The Census Bureau collects data on disability primarily through the American Community Survey (ACS) and the Survey of Income and Program Participation (SIPP).
---
Disability Statistics (Cornell University)

Provides disability statistics from the American Community Survey, Current Population Survey, EEOC charge data. The site also includes downloadable disability status reports, and various research tools.
---
Annual Disability Statistics Compendium

The Annual Disability Statistics Compendium, Annual Disability Statistics Supplement, and State Reports for County-level Data are web-based tools that pool disability statistics published by various federal agencies together in one place. The site provides access to past compendiums, supplements, and annual reports under the archives, HTML documents, and annual reports menus, respectively.
---
Award-winning 18-minute documentary video, which captures the drama and emotions of the historic civil rights demonstration of people with disabilities in 1977, resulting in the signing of the 504 Regulations, the first Federal Civil Rights Law protecting people with disabilities. Includes contemporary news footage and news interviews with participants and demonstation leaders. Available in open caption, audio descriptive and standard formats.
---
Dateline meets children with severe Tourette's and follows their journey to a summer camp where they find they're not alone.
---
This video segment profiles Ed Roberts, the man who is called the father of the independent living (IL) movement.
---
Four decades ago, Judith Heumann helped to lead a groundbreaking protest called the Section 504 sit-in -- in which disabled-rights activists occupied a federal building for almost a month, demanding greater accessibility for all. In this personal, inspiring talk, Heumann tells the stories behind the protest -- and reminds us that, 40 years on, there's still work left to do.
---
Born with a genetic visual impairment that has no correction or cure, Susan Robinson is legally blind (or partially sighted, as she prefers it) and entitled to a label she hates: "disabled." In this funny and personal talk, she digs at our hidden biases by explaining five ways she flips expectations of disability upside down.